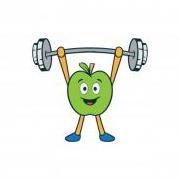 About This Club
Exercises, Diet, Fitness Goals, Healthy Eating
What's new in this club

Today I have managed 13.000 steps and 383 Cal.

I try minimum 10.000 steps daily....sometimes I mange 18.000. I walk in the local park. In my opinion 30min is not enough, at least for me.

Hello all! I haven't been on JWTalk in forever--a couple of years, probably--and now for the first time I see there are all these clubs. I'm working my way back up to daily movement and exercise after being in a long slump. If anyone else is interested, I thought to start a thread where we can set goals for the week, check in periodically, motivate each other. My goal for the week: Take a 30-minute walk today and do a 7-minute workout from an app I have on Tuesday and Thursday at 8am. Would love to hear goals from others. About me: I went off the rails with my health habits and gained a lot of weight over the last couple of years due to a massive case of pandemic comfort eating, stress from work and a divorce, and chronic health conditions. I am slowly starting to work my way out of it, especially because I NEED to exercise to manage my health conditions. I am going to a personal trainer 2x/week because I really needed the motivation and structure to get out of my slump. But my goal is to get back to going to the gym/group exercise classes on my own every week. Would love to learn more about you all!

What is the rut you are in?

Good morning friends, what helps you stay motivated in your routine? I seem to be in a rut ☹️

Way to go! You are now "Lil Vince"! [emoji6] Or "Ripped Vince!" Keep up the good work... My doctor said, "not bad, you're maintaining your weight since January." He does not know my Covid-19 weight swing in between visits with him![emoji23]

I work out 6 days a week, even before covid, I've lost about 15 pounds of fat since the start and gained 6 of muscle.

From Urban Dictionary🤣 COVID-15 food The 15 lbs of weight gain caused by nervously binge eating your COVID-19 food stockpile. "Oh man, I shouldn't have eaten the Costco box of ramen , I'm one step closer to hitting my COVID-15" 🤣

I see the title has lost 4 pounds already..😂👍🏻

What's your plan to burn the extra stored energy from sheltering-in-place due to COVID-19?

Actually I do not have a device, so I meant some app only exercise kind of thing.

Brother Benjamine, Do you mean apps that are similar to the fitbit app? Brother Matthew I do not go to gyms either, I cannot afford it, and worry too much about germs, I use my pedometer and was doing 10,000 steps just to start off my day...but I fell and now it is sooooooooooo difficult to get back on it!! and my plan is to jump rope, and use the horse bike...I do not know what you call it...LOL And... I am currently working on my arms, for toning up - just a little! I do not want to compete...LOL It is just that I do not like my upper arms waving in the air like I don't care. 🤣 I have been doing the Queen's wave.. My son gave me some tips on how many reps to do - and... I have notice a change in over a month a little tight. I read a post on our dear sister advice on muscles for women....and I agree wholeheartedly with her post on woman and muscles - nice! YouTube have great exercise videos - I research them also Brother Matthew? I like the Leslie Sansone one as well. Searching for others.. please post any new findings, especially on walking and moving in place, or toning - whatever I am trying!!! Sis

Considering that I don't use phone, I don't know any! Haha. I myself don't go to any gyms and just research stuff that can be done at home without needing expensive equipment.

Hey Matt, Do you recomend any app for fitness rather than going to a gym?

Development & Purpose of the routine My exercise program which I have developed myself is a very small and simple one for the purposes of simply maintaining general fitness and functionality. It is based off of several simple and low impact exercise programs. The goal of my little program is naturalness. Achieving fitness within the realms of one's natural physical frame as opposed to looking to get extremely toned, ripped or buff. This is not the routine for people looking to get extremely built, extremely flexible nor for people who are seeking to lose weight. This program is about general bodily maintenance and small improvements only. The exercises are of low impact in order to prevent long term damage and also in order to be maintainable on a daily schedule as opposed to not being able to move the next day, the principle being "slow and steady wins the race". Over exercise causes long term damage to the body and is not beneficial for longevity or bodily maintenance. I believe that functionality of the body must take precedence over vanity of the body. This means training for bodily usefulness and basic fitness as opposed to developing a body which is only for show but has no actual functionality or long term sustainability. That's not to say that your body 'won't' look better for doing these exercises, that may come naturally, but that should not be the goal. There is to be a balance between strength, endurance and fluidity of the body. Too much emphasis on one area will cause an imbalance of functionality. It's no good being strong but immobile, nor extremely fluid but weak. Of course we naturally have our leanings as we all have different body types, some of us are more flexible or fast than we are strong or enduring, but my exercise routine attempts to just bring in a bit of improvement on any lacking areas whilst the main goal of the routine is simply as already mentioned; maintenance of the body and it's overall functionality. I like to focus on four main traits; Strength, Endurance, Fluidity, Coordination and Breath. The exercises to target each major area of one's body; core muscles, limb muscles, joints and internal organs. This routine is very short, easily done every day and requires no equipment (though there is an "optional addition" of wrist and ankle weights which is mentioned later). The exercise routine To start, we first list attain a good posture, limber the muscles, joints and oxygenate the blood. We use slow, deep and relaxed diaphragmatic breaths (the type of breathing which causes one's diaphragm and belly to expand outwards), in and out. Not only does the breathing relax the body, which will enhance the effectiveness specific exercises, deep breathing also promotes healthy blood pressure, strengthening of internal abdominal and intestinal muscles, lung health, promotes better blood flow and releases toxins from the body. Body posture is important for health in general, as it will affect the way gravity pulls on us over time (for example looking down of having a hunched posture as a young man, will mean that person will grow into the old man who hunches over and can't look up), how "free to breath" our internal organs are and overall movement. Also, posture is vital for "safe exercise". The first exercise should be done standing in a good neutral and relaxed posture. First wrist rotations. Simply holding our your arms in front of you, allow them to hang some, just letting your muscles relax. We then begin the rotations: -Rotate your wrists around gently for 10 repetitions one way and then the another 10 the opposite direction. -Rotate your elbows, resulting in rotating only the forearms forwards away from the self, when stretching the arms forward do so like you are gently pushing something away from you and drop the hands as if you were stroking a horse with both hands before bringing them back around to you in a slow windmill fashion for a count of 10 repetitions, during this we shall also work on a muscle, as well as coordination and multi tasking by standing on one leg and doing tip-toe raises (calf raises) on a single leg for a count of 10 in time with the arm rotations. Then we do the same arm roations again, but inward and towards the self and then out so that the back of the hands face upward when stretching the arms out, for a count of 10 whilst also changing legs. -Rotate the entire arms in a slow and relaxed windmill fashion, 10 counts forwards, 10 counts backwards. As we do this we shall be performing "sumo squats" in time to the arm rotations we do. This exercises in particular works very well with the deep breathing, inhalation timed with the chest naturally opening forwards from the arms being stretched out and inhalation when the arms relax down. Next we work on the neck, torso, hips and ankles. -Rotate the the head gently counter clockwise and clockwise for a count of 10 each, be aware during the rotating to not to over extend the neck back in order to not hyper extend it or damage the spine. -Rotate hips and torso around clockwise for 10 counts then counter clockwise for another 10 counts. -Slightly bend the knees together and swivel them around gently for a count of 10 clockwise, 10 counter clock wise. -Standing on one leg, raise the free leg, knee rising with the leg hanging, from the ground in front of you to a comfortable height, rotate the ankle clockwise then counter clockwise for 10 counts each, then do the same for the other leg (if you find the coordination difficult, try to imagine drawing a circle with your big toe, it's helpful). For balance place your hands on your waist or stomach. After we have limbered the joints and muscles we now can choose to move on to the slightly more robust exercises if desired. However, as a softer alternative to these exercises, you may instead choose to simply wear wrist and ankle weights, and perform the previous set of exercises alone , doing movements normally and letting the weights to the work for you. Or you may choose to do those initial exercises normally, and then "again" whilst wearing weights. However, if looking for something a little bit more challenging, then this is where we move onto dynamic tension exercises. We first do the initial wrist exercises again as we did before but this time without the calf raises or squats. But we shall however be apply muscle tension. During the rotations we tense the hands, wrists and forearms tightly and do the same set of repetitions. We do the same again, when moving on to the forearm rotations. Finally moving on to the entire arm rotation, again applying dynamic tension, remembering to keep the breathing steady and our posture "good". (As an important note, I would advise caution to those with a heart condition for dynamic tension exercises, and should check with a doctor before doing any, as it is quite intensive for the body.) The next exercise we go into a short abs and core routine. We sit down, resting the arms and legs and doing a count of 20 Russian twists, breath should be relaxed, deep and timed with the twists. After this you may choose to repeat the opening mobily exercises to cool down again, without the added squats, calf raises or tensions. That there is the end of the routine. It is really quite quick considering the repetitions and exercise counts are low, it is also very low impact for this reason as well as the routine being set up to have breaks for the body via combinations of standing and sitting sections when it comes to the strength and endurance exercises. Overall it covers the basics of general muscular usage, mobility and internal health. (Video tutorials for specific exercises below for those unfamiliar with certain terms):

Ya and usually with a Starbucks coffee and their new balance workout shoes. At least that's the case at my gym anyways.

She could probably just "Check In" from her car in the parking lot, but at least this way she got her exercise for the day, lol

There is a woman in the gym I go to who always spends her time just sitting on a sofa with a cup of coffee typing on her mobile phone….I guess she´s posting "At the gym" on her Facebook account - before she finishes her coffee and leaves.

They won't believe you when you tell them it was free indefinitely..

How do I join? I'm on a LapTop.

This is me... To post in this club, I had to join in the browser view, then return via my app. Just Older [emoji856]

I just wanted to be able to tell my friends that I have joined a fitness club...