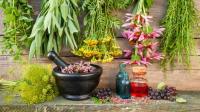 About This Club
Sharing what works for you, please be careful to not prescribe for others.
---
What's new in this club

Good topic Matthew..thanks for starting it. I have most of Bach's flower remedies and they do work..they are not placebo..there are several good books on the remedies. If you're interested I could list ones I own and have found helpful..

Bach flower medicine is a form of organic medicine that uses flowers, herbs and alike to treat emotional ailments, and is considered as a form of Homeopathy. Better known today as the product "Rescue Remedy", which people swear by. A few people and some tests however, stated to think it was purely just "placebo" (when one thinking it works, so it simply works) as opposed to it being genuine. https://en.wikipedia.org/wiki/Bach_flower_remedies However others counter such arguments with the position that "it works on animals and babies" of which would not be tricked by placebo, as they have no concept of what you're giving them. I also found a study, which is in support of Rescue Remedy, and states it is not just a placebo effect, as opposed to the statements made in other tests. https://www.science20.com/news/does_rescue_remedy_work_for_anxiety_yes_says_study So I found that quite interesting and encouraging. I myself have just got my hands on some from the local pharmacy when I asked for something to help me with travel (as I need to go to my ASD/ADHD assessment soon which is about an hour drive away, and traveling is very difficult for me). I have been testing it myself and it seems to work well, and I say this as a person who has tried other things before to help calm me, and they did not work (to adress the whole "placebo" claims"). I find interestingly that, it does not take my energy away, but only helps with the anxiety/negative thoughts, so I end up with "tigger syndrome" (feeling bouncy) after taking it, since the emotional filter of what my energy is passing through in my mind changes (and this usually only happens when my attention is stimulated by something, or if I'm having a day anxiety free). I found a few years ago I tried the spray version of Rescue Remedy, but it didn't work for me, but taking it in the form of drops seems to work for me this time around, and is much more potent. But that is my very small experience of it so far, thought I'd share!

surfergirl

joined the club

So I tried out a natural shampoo alternative using bicarbonate soda (what Americans call "baking soda", not to be confused with "baking powder"). It's pretty easy to make and you can always add more ingredients, but I'm sharing the most simple method of making it as well as a personal review after a one time use. Review I waited a long time before I washed my hair, so it was plenty greasy, and also very thick (because it needs trimming). After applying and washing my hair, I found all the grease was mostly if not all gone in a single session. Today my hair is still very much clean after sleeping. I will however say that it can leave your hair a tiny bit "rough" and dry, and so you might benefit from conditioning your hair after washing like this, with something like coconut oil and combing it through, then washing it out well, but it's trying to attain a balance between having conditioned smooth hair, or just being plain oily. Creating the shampoo The ammount of the bicarbonate mix you want to use will be dependent on the thickness of your hair. The proccess of making it is through three simple ingredients. -Bicarbonate soda (duh) -1-2 drops of tea tree oil (or other essential oils of choice) -A small ammount of water You'll want to put the soda in a container first (perhaps a couple of table spoons), then add a tiny bit of water, bit by bit, you won't need much, until you form a paste. Then add the drops of tea tree oil. This will lessen the effects of it drying out your hair, good for the scalp and prevents dandruff. It also adds a nice scent to the mixture. Just stir that around with a finger to mix it up. Applying Procceed in wetting your hair in the shower (or however you like) and then wash your hair with all the paste as you would shampoo. Note that this mixture will not lather up like shampoo, so you will have to get used to that, since many of us associate lather with "clean" or "efficient" shampoo (though that not need be the case here). Rub it in well for a while then just wash it out as you would. As you do this you'll certainly feel the difference from normal shampoo, as the hair may not be a smooth to run your hands through (hence the suggestion of a condioning afterward of some kind).

Rozannnancarrow

joined the club

My doctor now is more open minded and told me to take Turmeric for chronic pain and inflammation (I have lupus amongst other things) I've had great success and have actually stopped taking my anti inflammatory medication 😊 I have a friend with terrible arthritis can you tell me what kind of Turmeric to take there is so much on the market. I am able to get fresh I use it a lot in my cooking. Thistle Tea is also very good for inflammation.

I totally agree, I normally don't talk about it with the medical profession.. Many years ago my youngest daughter had misdiagnosed pneumonia, she was only 3... the doctor said that if she wasn't showing some improvement them she would be in hospital, I gave her the antibiotic as prescribed but it really wasn't helping.. I contacted a homeopath who actually came to my house... she treated her with tuberculosis and I sucussed the remedy each time... she was better within 3 days!! My doctor couldn't believe it and I had to admit to using the homeopath, he wasn't impressed... lesson learned to keep quiet! My doctor now is more open minded and told me to take Turmeric for chronic pain and inflammation (I have lupus amongst other things) I've had great success and have actually stopped taking my anti inflammatory medication 😊

Annie what I always say it's like the truth..........either people get it or they don't. I pick and choose who I talk to about it. Most look at you like your from another planet. I rarely recommend my HP Doc but if people do ask, I tell them it's not a quick fix like traditional medicine. If your not willing to follow the instructions save your time and money, don't bother going. I didn't get to this age and not know a few things about health and life. Right now I am even treating my cat who has a bit of a sneeze every so often. I got a remedy from Schuessler ( Tissue salts) Sinus. Seems to be helping.

I use NUX VOM often it really helped me through a period of terrible nausea. I have it always in my medicine cupboard ..... I never travel without my little satchel of homeopathic remedies. I go to an very good Homeopathic DR. Trained in Russia and Germany, he's a gem. I have MS and the medical profession gave me no hope, I have been doing Homeopathy since I was diagnosed I am mobile and run circles around some able bodied individuals. LOL not bragging just a real believer.

Maris

joined the club

Jeanie

joined the club

EccentricM

joined the club

This is one of my favorite homeopathics. I use it nearly everyday. Its very safe.

I have just had someone tell me that taking Nux Vom will poison you... I agree if you just start ingesting the nut it would be poisonous, but when its made into a homeopathic remedy it's perfectly safe and is very handy to have at home.. I'm finding it very hard to make them understand... I've gone down the tiny amount... like cures like route etc.. At this stage I think I may as well talk to the wall!!

Patinage

joined the club

NW2018

joined the club

Saralee

joined the club

Miss Mouse

joined the club

Vinnie

joined the club

Friends just call me Ross

joined the club

Dertzey

joined the club

Dove

joined the club

Lets kick this forum into play shall we I always reach for either herbs or Homeopathy before I visit the doctor... my doctor is my last resort, however I do know when it's time for a antibiotic etc. Winter colds/coughs etc are always treated with herbs... I find that a product called Bronchosan which is in effect a mix of ivy and thyme is my 'go to' for shifting coughs or catarrh. Sadly many herbal remedies have been removed from the shelves here and have become illegal to sell... so everyone just buys them in from the UK, mostly its because they work! another reason of course is because they can have contraindications to prescribed medicines so you do have to be aware and be careful.