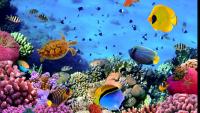 About This Club
Setting up the aquarium, ideas, fish and plants
What's new in this club

Today, I am making another step and actually clearing space in my study for the aquarium. Well, it took me only 2 years to get to this step since the initial post LOL

Here is another virtual aquarium that i have and just love for its realism. Marine aquarium 3 by Serene Screen. You can try it before you buy it too. Check it out and compare.

I love to do that too. Just seeing all the beautiful colors helped me thru the cold, long winter. I love seeing the turtles / tortoise serenely floating along.

I am running virtual aquarium on my TV in the living room, got some smart LED lights to create nice atmosphere behind the cabinet (TV is hanging on the wall) Looks cool - found 4K aquarium videos on You Tube - they go like 9h. I was reading the Bible, while the "aquarium" was running ..., I say serenity now

We don't have this app in Australian store

I would like one "real one" in my study. I have watched You Tube videos about aqua-landscaping, and it's incredible what can be done when imagination is in full gear. I have questions regarding, heating, lighting, filters and maintenance.

That's beautiful! 🐠 I found n Youtube videos I think it's something like relaxing something or other. I just mute it so I can see all the colors and different fish. See lots of Nemo and Dori(?) 😁

I cannot afford a real aquarium so I keep virtual aquariums on my phone and tablet. They look just like the real deal and you get to set it up the way you want it to look. I use mine as apps, not as wallpaper. I can open them up and watch them whenever I want to experience a peaceful easy feeling. I love how the fish react to feeding time. Just like the real deal...only a whole lot less work and expense.

Hi Friends, Yes, it's crossing my mind to set up a new aquarium. Thinking "tropical" fish at the moment Any advice?