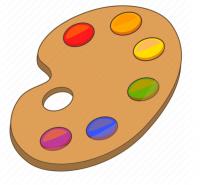 About This Club
Beginners, Advanced.. Acrylic, Oils, Watercolor... everything welcome. Share your art and tips!!
What's new in this club

Happy to be here! I'm also an artist by heart 💓 ...thanks to Jehovah for this talent!🥰 IMG_6094.MP4

I've been neglecting this club 🙈 Truth is I'm really busy with commissions... I'll pop few of them here, have any of you been busy this summer with art of any kind?

A new commission... this time for a photographer !

I'm not too far off from finishing this lad

Thanks for joining... I'm really looking forward to all your art, I know you make beautiful things

What beautiful work everyone!! I'm very taken with the eye of your horse Annie ... very expressive - that's difficult to do. Im working on birdlife and flowers and butterflies - when I think I've improved a little I'll show you all. Hope you don't mind Annie, I've just joined your club. Lovely ideas here.

I'm done at last ! The neck looks wrong but the dog was very old and wide 😅

Ohhh look forward to seeing your portraits ❤️

I have not tried drawing pets. You have inspired me to give it a go. Thank you.

.... and the next one started

I've also made a start on the portrait of my daughters sweet elderly Jack Russell... this isn't going to be finished within a few days 🙈

I'm working away on colour pencil at the moment using Faber-Castell Polychromos on Strathmore paper... I'm waiting for drafting film to arrive, has anyone drawn on it before?

My daughters horse who sadly died a few years ago..

Thanks Mykyl, I've never heard of his channel.. I'll go take a look 👍

That's just amazing.. he had so much talent, thanks for posting it. I absolutely love paintings like that ❤️

This guys paintings are inspirational as well. His channel. https://youtube.com/c/NitinSinghwatercolorpaintings

Down Under we say .... could make mess of it. Interesting difference ..

Thank you... believe me I could make a hames of it very easily... but you're right it's a lovely hobby

Very nice, you have good hand! keep going, painting and drawing is a nice hobby.

Just started on this horse

Whats a mistake? The person doing the work always sees what they feel are mistakes. Its like singing in a band and wincing every time I hit a duff note. Nobody noticed but they noticed the wince.

First thing you need to remember is forget detail. Detail early on will stop you in your tracks. One thing I enjoy is just scribbling with a pen. I use a pen as I cannot rub out mistakes. I have to just deal with whatever happens. Gt a big brush for your water colours and that will force you to ignore detail. Then as you learn you can adjust how you want to do it. I think he is better now but I liked the speed and mess of working like that. A scribble of a building in town in pen. Couldn't fix the mistakes.