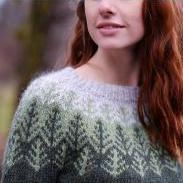 About This Club
Sharing all yarn and craft projects, help given if needed. Creating 'hand crafted clothes'
---
What's new in this club

😁 thank you, it was a really enjoyable knit

It's so professional looking..

Dove

joined the club

Finished! Just blocking it now... I'm really looking forward to wearing it. Pattern is Skógafjall by Dianna Walla using Léttlopi yarn

Why is that? I use the beautiful Lykke needles... they're so smooth, the stitches fly

I absolutely hate working with circular knitting needles.

Loopy

joined the club

Actually it's really easy, I was taught to knit everything flat and then seam it together... I really love the new patterns, most of them are written and don't use graphs unless it's colour work.. I open up all of my digital patterns (which most are these days) in a app on my tablet called knit companion... I love that I can save my place, count rows, use the cross hair sliders. .. everything is so easy. I think the very first sweater that I knit in the round was the Flax sweater which is a pattern by Tin Can Knits, simple and easy to follow 😊

Margaret

joined the club

I know, the patterns are totally different now too (instruction wise- they go buy pictures/graphs instead of words). To pick up knitting again like I would like to I would have to totally rewire my brain.

I thought that it would be nice to nice a moment to let everyone know that if we do enjoy making things... what are they? Are you a knitter, sewist, crochet etc.. what do you enjoy most? I learnt to knit when I was about age 6, my grandmother taught me to make cotton dish cloths...I didn't attempt anything again until I was 20 when I almost made a cardigan but didn't finish it 🤣 I didn't pick up my needles again until about 3 years ago... and now I confess that I have an addiction! I also enjoy spinning, I learnt about 30 years ago and I would love to weave... Sewing is something else that brings me joy, and I'm aiming for a made by me wardrobe... that may take a long while though 😋 I also have my own yarn business, as a indie dyer...I dye yarn into pretty colours and sell online.

1gemstone

joined the club

a2zkiddos

joined the club

Thanks for endorsing I think I will

I think you need to discover the rabbit hole 😁

I'm Anniebea66 on Ravelry And my business account on Instagram is The Sixpence Moon Anyone else on Ravelry?

The type of dog I've had for the last 25 years is called "Maltese". None of them were ever sick. They all had great teeth too. The better food you feed your dog, the better health it will enjoy. I only ever had health problems with them toward the end of their lives (they were all over 10 years old). The dog I have now will be 8 soon and everyone thinks she is still a puppy because of her energy, looks and personality. She is still very playful. Maltese will do whatever YOU want to do when you want to do it. If you just want to lay in bed all day, they will do that happily - if you want to play, they will play, etc. They are great lap dogs and love to be held and absolutely love to be with you wherever you go. Since you live in the US, I highly suggest you go on the Interest and type in "Maltese Rescue" and it will show sites that have Maltese dogs that have been rescued or given up for one reason or another that you can adopt and it's much cheaper! They usually show pictures of the dogs and give their names and tell you a little about their personalities as well as how old they are and if they have health concerns.

If I sit then I knit, I also have several projects on the go... I'm not sure how long it would take hour wise, time wise it takes me about 3 weeks I guess... just depends what else I've got on. Knitting has changed greatly Shali... everything is knitted in one piece from the bottom up or top down, really easy!

I heard they cost in the thousands. They are so cute, I'd want to take it everywhere I'd go too but that wouldn't be possible. Are they sickly? I heard they can be and very expensive to care for?

How long does it take for you to make a sweater like that? Let's say you could work on it from beginning to end without putting your needles down - how long would it take you?

I've just got hold of a floor loom and I don't have the faintest idea how to put it together yet! I want to learn and I'm kind of hoping that someone here weaves? The loom is approx 100 years old and us Irish

The dog with the coat that looks like a flower only weighed 3 pounds full grown (we took her almost everywhere we went) and in 1999 she cost us 900.00 (about 300.00 a pound!). The one in the coat with the ears was a work "bonus"from one of my clients. Although I never talked about having another dog, her husband gave her this one for her birthday and she didn't want a female (she wanted a male) so she gave her to me. Originally I think the husband paid 500.00 for her. She maxed out at 5.5 pounds. I kept her long coat until she was seven and now we keep her in a puppy cut with a korean face cut. i've found that the smaller they think the dog is going to be, the more they charge.

Oh man, your skills are way beyond mine! I have trouble keeping the yarn lose enough when change colors back and forth! Beautiful sweaters! I used to make full blown sweaters many years ago but now it seems no one wants anything homemade.

Yeah, she's not big on wearing coats but when it's 50 below windchill here, she wears two coats and booties! I had another dog that I dressed up all the time and she didn't seem to mind at all. She looked adorable in whatever I made her. Here's a pic of one of the coats I made my other dog.

I've just finished the Gamaldags sweater.. it's a Icelandic pattern, really easy yoke and comfortable to wear.

I'm with Annie, Shali, that's super cute!! So is your dog! I'd love to have one like that...little. Did she cost much?

Life4u

joined the club

That's super cute Shali, by the look of her face she doesn't look very impressed 😂 Everytime I try to put a coat on my dog she refuses to move a muscle!